Tempered Glass
1.Tempered glass is produced by heating annealed glass in a furnace to 620 degree centigrade. Progressing from the furnace, the glass is rapidly cooled with jets of cold air, inducing compressive stresses to the surface while the center remains tensile.
2.It is 5 times stronger than annealed glass of the same thickness.
3. Stronger resistance to thermal breakage than annealed or heat strengthened glass
4. If breakage occurs the glass breaks up into small, cubical fragments, which are not threatening to humans.
Fetures:
-Suitable for use as a safety glass as defined by customer product safety association 16CFR1201,ANSI Z 97.1 1984 and BS 6262.
-Conforms to CCC,AS/NZS2208-1996(Licence No: SMK40377 ),EN12150-1,and ASTM C1048,All work done on glass.
Special processing: cutting, holes notching or edge working will-be made before heat treated.
Shower Glass Panel
A shower glass panel is a fixed piece of glass that is installed around your shower. A shower glass panel may be the fixed portion of a shower glass enclosure that remains still and stable beside the door. Or for some people, a series of glass shower panels are used to enclose all but a small opening for walk in showers.
Inline Glass Shower Door
Most inline shower doors consist of a glass door panel which is usually connected to one or multiple glass panels at 180º. It is this arrangement that causes the glasses to form an inline design.
An inline shower door may be a single swinging door connected to a complete glass panel or full panels on either side of the door. In some cases, the inline panels are notched at one end to accommodate a shower seat, knee wall or any other design features that the client may deem fit for their requirements. The inline doors are either framed or frameless.
Fixed Shower Panel With Rolling Door
A fixed shower panel with a rolling or sliding door features two different parts. The first is a fixed shower panel that remains stationary. The second part is a rolling door that slides from the left to the right. The door slides in front of the stationary panel when it is opened and seals off your shower when it is closed. Fixed shower panels with rolling doors are perfect in small spaces where you do not have the room for something like a door to swing outward.
Glass Shower Enclosure
A glass shower enclosure encompasses the entire space around your shower pan and drain. Enclosure may be framed or frameless depending on what you are looking for. If you are looking to enclose your entire shower space, a glass shower enclosure may be ideal for you.
Frameless Glass Shower Door
Frameless glass shower door is a common option for bathrooms. Most of the frameless models are custom made which means that you aren't limited to mass-produced standard size shower doors. One of the most crucial things when choosing a frameless shower door is the measure and install.
Typically, most of the frameless glass shower doors are not perfect squares so do not always think about the square glass when you go to measure them since they will not fit. Once you make up your mind that you need the frameless glass door, don't change it midway since the doors are custom made and may not fit other people's requirements.
Custom Glass Shower Door
When you are looking to have a unique shower door created, a custom glass shower door may be ideal for you. There are many elements that you can customize when you select a customized door. You can pick what type of glass you want, such as opaque or frosted. You can pick the size specifications, making it perfect for those who have a uniquely sized shower opening. And you can select the type of door, such as a fixed shower door, a swinging glass door, or a sliding door.

Shower Door Specifications
| | |
| --- | --- |
| Shower Door Types | Shower Screens, Shower Doors, Shower Doors & Panels, Corner Shower, Neo Angle Shower, Steam Shower, Sliding Shower Doors, Swing Shower Doors |
| Glass Types | Clear (Standard), Low Iron, Rain, Frosted, Bronze, Gray |
| Glass Thickness | 1/4", 3/8", 1/2" |
| Hardware | Handles, Towel Bars, Clamps, U-Channels, Hinges, Seals & Sweeps, Robe Hook |
| Hardware Finish | Matte Black, Brushed Stainless, Polished Stainless |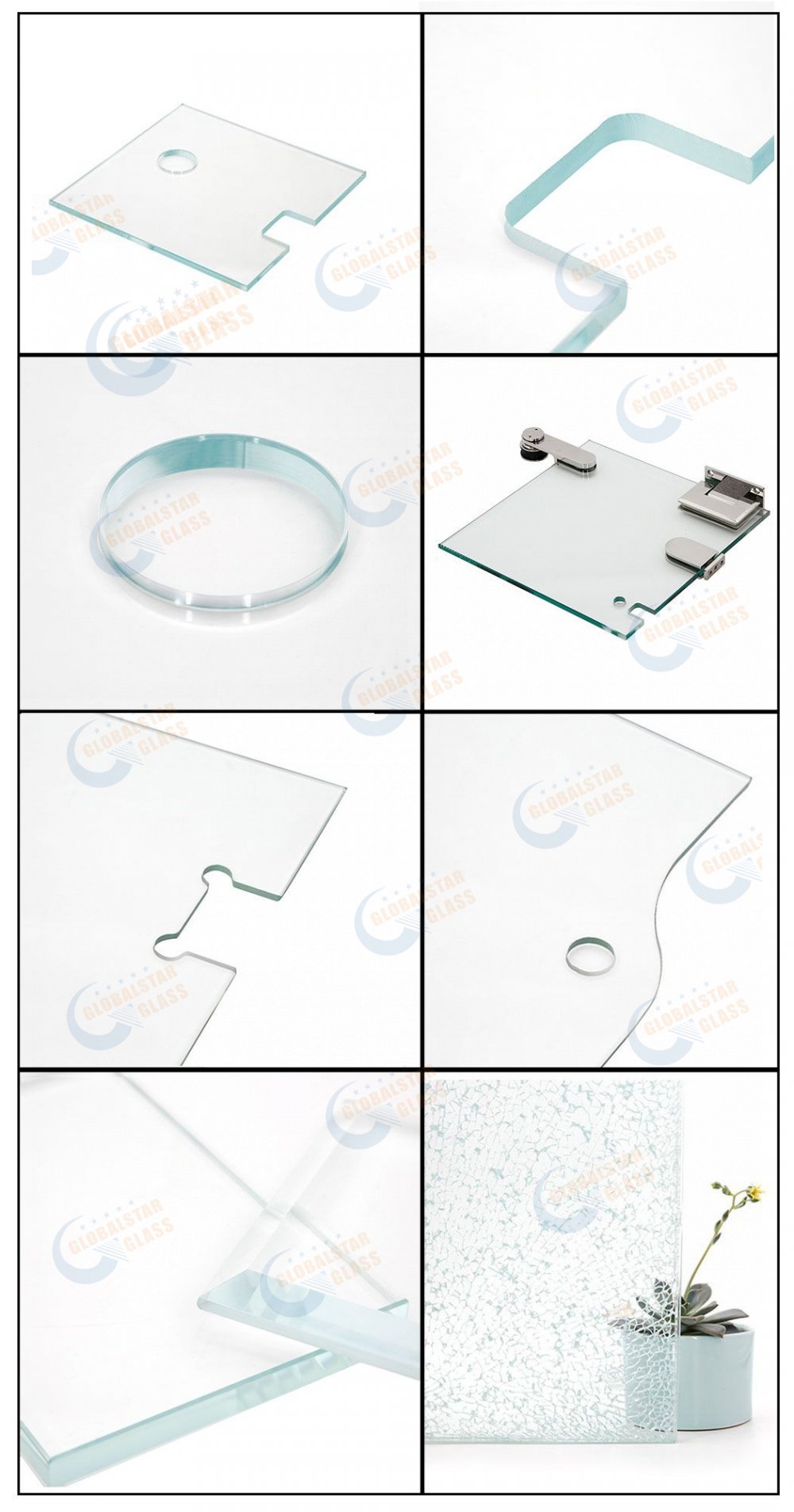 As the professional glass manufacture, we could supply you competitive prices, follow up on production anytime with video, 100% Inspection before delivery, with CE,SGS,BV, ensure quality, and deliver products to your door.
Have any questions about Glass shower door?
Don't hesitate to contact us. Globalstar glass specialists are very happy to help you and provide a variety of flexible and reliable solutions to help you solve various problems.